About
A data block is a multidimensional array structure that contains the data.
How is it created ?
Essbase creates a data block for each unique combination of sparse standard dimension members (providing that at least one data value exists for the sparse dimension member combination). The data block represents all the dense dimension members for its combination of sparse dimension members.
A data block is created if at least one data value exists in the block.
Compression
Essbase compresses data blocks with missing values on disk, expanding each block fully as it brings the block into memory. Data compression is optional but is enabled by default. See Data Compression.
Cell
Each data block is a multidimensional array that contains a fixed, ordered location for each possible combination of dense dimension members. Accessing a Essbase - Cell in the block does not involve sequential or Essbase - Index searches. The search is almost instantaneous, resulting in optimal retrieval and calculation speed.
Essbase orders the cells in a data block according to the order of the members in the dense dimensions of the database outline.
Example of block creation
A (Dense)
   a1
   a2
B (Dense)
   b1
       b11
       b12
   b2
       b21
       b22
C (Dense)
   c1
   c2
   c3
D (Sparse)
   d1
   d2
       d21
       d22
E (Sparse)
   e1
   e2
   e3


The block below represent the three dense dimensions from within the combination of the sparse members d22 and e3.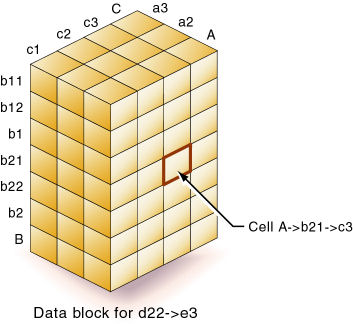 By carefully selecting dense and sparse standard dimensions, you can ensure that data blocks do not contain many empty cells, minimizing disk storage requirements and improving performance. More …
In Essbase, member combinations are denoted by the cross-dimensional operator. The symbol for the cross-dimensional operator is →, so d22 → e3 denotes the block for d22 and e3. The intersection of A, b21, and c3 is written A → b21 → c3.