Owb Expression Builder
Table of Contents
About
The Owb Expression Builder allow you to compose expression. In the left side, you can choose your input and your transformation (procedure, function, …) to compose in the right side you expression.
The most known expression is the case statement as below :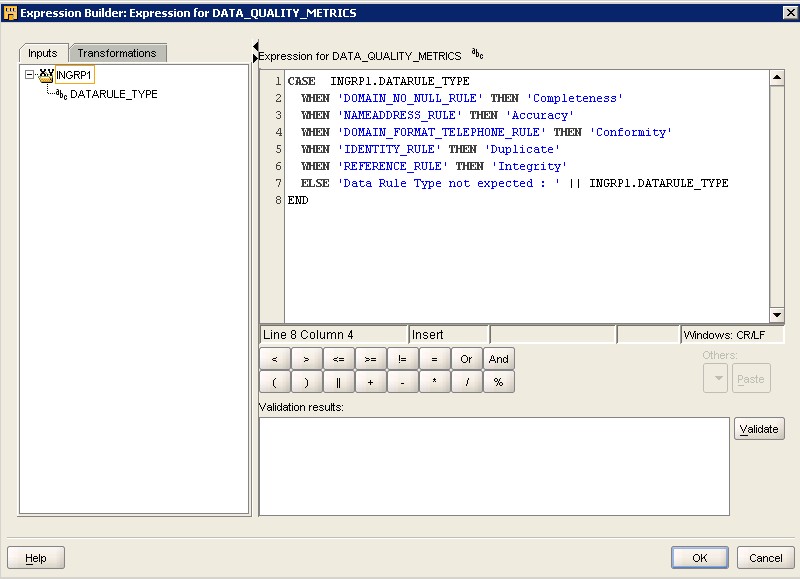 Example
In this statement, we transform the data rule type from a data rule as a data quality metrics.
CASE  INGRP1.DATARULE_TYPE 
  WHEN 'DOMAIN_NO_NULL_RULE' THEN 'Completeness'
  WHEN 'NAMEADDRESS_RULE' THEN 'Accuracy'
  WHEN 'DOMAIN_FORMAT_TELEPHONE_RULE' THEN 'Conformity'
  WHEN 'IDENTITY_RULE' THEN 'Duplicate'
  WHEN 'REFERENCE_RULE' THEN 'Integrity'
  ELSE 'Data Rule Type not expected : ' || INGRP1.DATARULE_TYPE
END

An other CASE statement form :
CASE 
  WHEN INGRP1.OBJECT_NUMBER LIKE 'OR%' THEN SUBSTR( INGRP1.OBJECT_NUMBER , 3 )
  WHEN INGRP1.OBJECT_NUMBER LIKE 'OL%' THEN SUBSTR( INGRP1.OBJECT_NUMBER , 4 )
ELSE '*'
END