About
Tutorial on the configuration of a connection to a subversion repository with SQL Developer 2.1 through a proxy.
Creation/Management of a repository Connection
Open the versionning navigator in Menu > View > Team > Versionning Navigator

create or manage a connection

enter the svn parameters

and test them.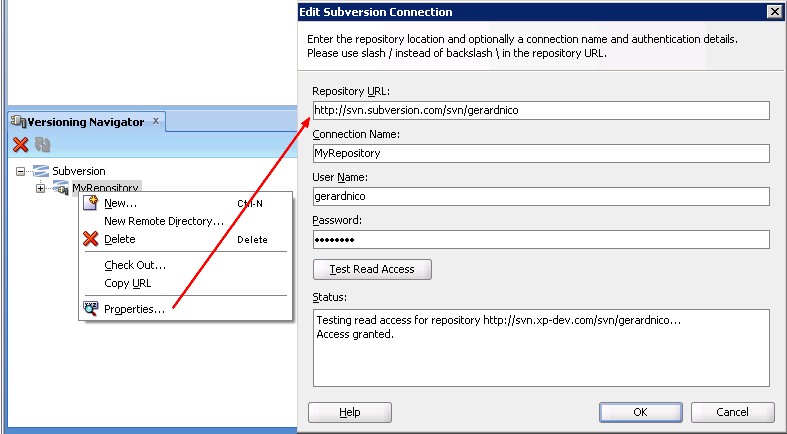 Check out
In my case, the checkout files go to the directory mywork on this location:
C:\Documents and Settings\NicolasG\Application Data\SQL Developer\mywork\Repository


SQL Developer will create a short-link to this directory in the Files view with the name mywork. See the paragraph below
Click Next, review the summary, and click Finish.

In the Versioning Navigator, select the Demo connection and click the Refresh icon.

You can now see the files in your Subversion repository.
These are read-only files and display the current state of your files.
Managing the files
Click the File Navigator tab, click the Refresh button, and review the contents of the folder:
MyComputer\MyWork\NameOfYourRepository\


These files are now marked as versioned, and the version number is displayed.

You can open, edit, and save (commit to check in) these files. You can select any versioned file and select Versioning → Subversion to review the versioning options available.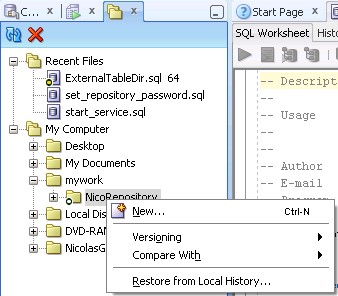 Documentation / Reference