Oracle Database - (Logical) Segment (Database Object Storage)
Table of Contents
About
A segment is a logical storage structure that contains data structure (segment type) of database objects.
For example:
each table's data is stored in its own data segment,

while each index's data is stored in its own index segment.
One segment name is one object but one object may have several segments records.
A segment is uniquely defined with the following columns:
the owner

the segment name

the partition name (A table may have several partitions)

the segment type (A package has a body and a definition)
A segment is an set (unordered) of extents. A segment and all its extents are stored in one tablespace.
Oracle Database allocates space for segments in units of one extent. When the existing extents of a segment are full, Oracle Database allocates another extent for that segment. Because extents are allocated as needed, the extents of a segment may or may not be contiguous on disk.
Within a tablespace, a segment can include extents from more than one file; that is, the segment can span datafiles.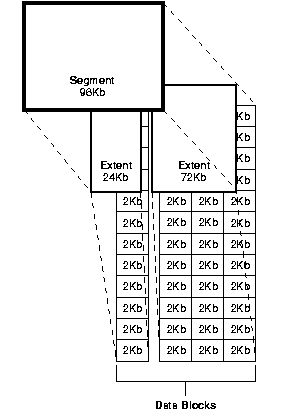 Articles Related
Type
Data Structure (Segment Type)
CACHE

CLUSTER

DEFERRED ROLLBACK

INDEX SUBPARTITION (An index subpartition)

LOB PARTITION (Content of lob column in a partitioned table)

LOB SUBPARTITION (Content of lob column in a subpartition)

NESTED TABLE (A nested-table content)

ROLLBACK

SPACE HEADER

TEMPORARY

TYPE2 UNDO

UNDEFINED
Management
Action
As a segment is an object, you must refer to the object (alter, create,…) statement to modify them.
Example: if you want to suppress a lobindex segment, you need to suppress the lob column.