Timesten - Cache Repository (Oracle Objects)
About
The cache repository is split in two schema:
the timesten schema

and the cache administration schema
Articles Related
Schema
Timesten
The Timesten schema stores information in order to manage a cache grid.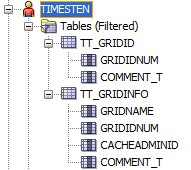 Cache administration
Other objects (tables and triggers) stored in the admin schema are used to enforce the behaviors of particular cache group types (automatic refresh cache groups and AWT cache groups). They are used to manage a caching environment such as:
change log tables,

cache and replication metadata tables,

and triggers
When particular cache grid and its cache groups operations are performed, it will create tables.
How to
see the repository Objects
To view a list of the Oracle objects created and used by TimesTen to manage the caching of Oracle data, execute the following query:
SELECT owner, object_name, object_type FROM all_objects WHERE object_name 
LIKE 'TT\___%' ESCAPE '\';

The query returns a list of tables, indexes and triggers owned by either:
the Oracle timesten user

or the Oracle cache administration user.
| ORACLE OWNER | OBJECT_NAME | OBJECT_TYPE |
| --- | --- | --- |
| TIMESTEN | TT_GRIDID | TABLE |
| TIMESTEN | TT_GRIDINFO | TABLE |
| CACHE_TT_ADMIN | TT_06_AR_PARAMS | TABLE |
| CACHE_TT_ADMIN | TT_06_CACHE_STATS | TABLE |
| CACHE_TT_ADMIN | TT_06_CACHE_STATS_S_U | INDEX |
| CACHE_TT_ADMIN | TT_06_DATABASES | TABLE |
| CACHE_TT_ADMIN | TT_06_DBSPECIFIC_PARAMS | TABLE |
| CACHE_TT_ADMIN | TT_06_DB_PARAMS | TABLE |
| CACHE_TT_ADMIN | TT_06_DDL_L | TABLE |
| CACHE_TT_ADMIN | TT_06_DDL_TRACKING | TABLE |
| CACHE_TT_ADMIN | TT_06_DI_BISA_1CGGROUPDEFS | TABLE |
| CACHE_TT_ADMIN | TT_06_DI_BISA_1CGIXIpPort | INDEX |
| CACHE_TT_ADMIN | TT_06_DI_BISA_1CGIXIpPort2 | INDEX |
| CACHE_TT_ADMIN | TT_06_DI_BISA_1CGNODEID | TABLE |
| CACHE_TT_ADMIN | TT_06_DI_BISA_1CGNODEINFO | TABLE |