About
This article shows you how to configure and test the cache of HTTP response.
Caching is the most important part of performance and allows for great improvement when done right.
When a HTTP server is sending back a HTTP response containing a resource such as an HTML page or an image, you may want that the next time, a user asks this page or image, the browser serves this response directly from its cache without any request to your server.
This is HTTP cache.
Enable / Control / Implementation
How to check the cache status
To check the cache status, the easiest way is to use the browser devtool and specifically the network panel.
You will see the status on two places:
Response Status
The returned status of the request can be:
200. If the text next to the status is:

empty: there was no cache.

from disk cache or from memory cache, there was a cache hit (good!)
Example of 304 - Not Modified HTTP Status in the Chrome Devtool (Ie Hit: F12)
Response Size
The size of the returned response is generally the place to be in order to see if the request / resource was served from the cache.
Indeed, even when the browser sends a validation request and get a 304, the body of the response is empty and its size is quite smaller.
In the size column, you may see:
disk cache - the content comes from the

cache store

- the resource was located on the disk

memory cache - the content comes from the

cache store

- the resource was located in memory

or a real size - no cache
What you want is to see disk cache or memory cache.
Why I get always a 200 status code without cache
Even if you have implemented correctly the cache, you may get while testing always a 200 response.
This is generally caused by the cache been disable in the browser.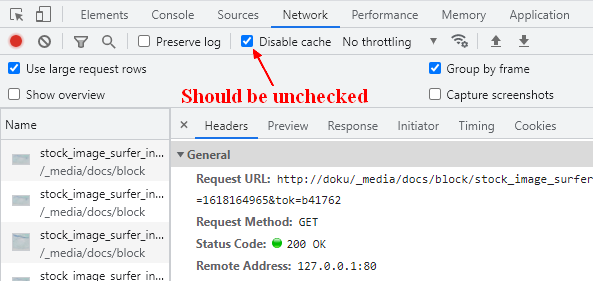 Otherwise, double check the cache-control header value.
Why I get always a 304 status code
Browser may send a 304 when:
If you still get this behavior for static resource, check your headers with the below headers (we don't have this behavior with this headers)
Cache-Control: public, max-age=31536000, immutable
Content-Length: 8011
Content-Type: image/svg+xml
Date: Thu, 23 Sep 2021 18:04:11 GMT
ETag: "c24034fb089a3e55fa5cb0135d398164"
Expires: Fri, 23 Sep 2022 18:04:12 GMT