OBIEE 10g - Windows Installation Version 10.1.3.4.1
About
Steps on how to install OBIEE on Windows.
Articles Related
Prerequisites
Permission
| What | Which permissions |
| --- | --- |
| Network | Network Administrator |
| Windows | System administrator |
| Database | DBMS Administrator |
Component
Java
Oracle Business Intelligence Enterprise Edition Version 10.1.3.3, 10.1.3.4, Rev. J requires Java 2 Platform Standard Edition 1.5.x. On IBM AIX, the version of JDK must be J2RE 1.5.0 IBM AIX build pap32devifx-20060310 (SR1) or higher.
Java 1.6 is not 100% backwards compatible with Java 1.5, and Replication uses functionality that's in Java 1.5 and does not work the same way in Java 1.6. So running 1.6 will likely break charts, PDF and Webcat Replication.
Database connectivity software
For example, If the Oracle BI Server is to access an Oracle Database, install the Oracle 10g client. If the Oracle BI Server is to access MS SQL Server database, install Microsoft Data Access Components (MDAC).
Data Execution Prevention
Under Windows 2003 and Windows XP operating systems, DEP (Data Execution Prevention) is turned on by default for all Windows programs and services. Before you run the Oracle BI Infrastructure installer, turn off the Data Execution Prevention setting for all programs. To change the Data Execution Prevention setting (Windows 2003 and XP only) :
Depending on your operating system settings, use one of the following methods:

Windows XP menu: Go to Start > Control Panel > System > Advanced > Performance (Settings) > Data Execution Prevention.

Windows Classic menu: Go to Start > Settings > Control Panel > System > Advanced > Performance > Data Execution Prevention.

Switch DEP to Turn on DEP for essential windows programs and services only.

Reboot the machine.
Installation Steps
If you plan to install the Oracle BI Server and Oracle BI Presentation Services on two separate machines, read this article before selecting the component that you want : OBIEE 10G - Installing Oracle BI Components on Different Machines
Run the installer on
Windows 7
When running the installer, you will get this message:
Oracle Business Intelligence is not supported on this Windows version. Oracle Business Intelligence is only
 supported on Windows XP x86, Windows 2003 x86, Windows 2003 AMD64, Windows 2003 EM64T, Windows Vista x86,
 Windows Vista AMD64, Windows Vista EM64T, and Windows 2000 x86.

OBIEE is then not supported and you have no other choice that to cancel the installation.
To be able to start the installer, you have to use the compatibility functionality of Windows 7. And even when you use this possibility, you can get this error:
The installer is unable to run in graphical mode. Try running the installer 
with the -console or -silent flag

Below is the procedure that I follow and which works for me:
Access the installation files.

right click on the setup.exe file and select the "troubleshoot compatibility" option.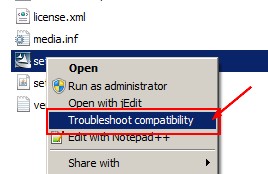 Select the option 2 "Troubleshoot program"

Program Compatibility: Select the problem

The program worked in earlier version of Windows …

The program requires additional permisssions

Program Compatibility: Version; Select the version Windows Server 2003

Click the button "Start the program" and the first installer screen must appears.
Others windows version
Access the installation files.

To run the installer in graphics mode, run the program setup.exe.
Next Steps
The InstallShield window appears and prompts you through each screen.
The meanings and default for each screen and prompt for complete Oracle BI EE Infrastructure installation in graphics mode are listed in this

Table
Provide the requested input for each screen.

To continue to the next screen, click Next. To return to a previous screen, click Back.
To view the help page for each screen, click Help.
At the end of the installation, restart your computer
Post Installation Tasks
Documentation / Reference