Browser - Web API - Fetch function
Table of Contents
About
Articles Related
Syntax
fetch(url, {
    body: JSON.stringify(data), // must match 'Content-Type' header
    cache: 'no-cache', // *default, no-cache, reload, force-cache, only-if-cached
    credentials: 'same-origin', // include, *omit
    headers: {
      'user-agent': 'Mozilla/4.0 MDN Example',
      'content-type': 'application/json'
    },
    method: 'POST', // *GET, PUT, DELETE, etc.
    mode: 'cors', // no-cors, *same-origin
    redirect: 'follow', // *manual, error
    referrer: 'no-referrer', // *client
    credentials: 'same-origin'
  })
  .then(
        function(response) {

        if (response.status !== 200) {
            console.log('Bad request, status Code is: ' + response.status);
        return;
        }

        // Response properties
        console.log(response.headers.get('Content-Type'));
        console.log(response.headers.get('Date'));
        console.log(response.status);
        console.log(response.statusText);
        console.log(response.type); //  "basic", "cors" or "opaque"
        console.log(response.url);

        // Parses response data to JSON
        //   * response.json() 
        //   * response.text() 
        // are promise, you need to pass them to a callback to get the value
        response.json().then(function(data) {
            console.log(data);
        });

        }
    ) 
  .catch(function(err) {
    console.log('Fetch Error', err);
  }

The response of a fetch() request is a Stream object, which means that when we call the json() method, a Promise is returned since the reading of the stream will happen asynchronously.
Request
The request is specified in the first block of the fetch statement and has properties.
Credentials
Mode
Mode possible values:
no-cors (Default) (ie no-

cors

) (discouraged - unsafe): Restricts requests to using:
Upon success, fetch will return an opaque filtered response. ie a no-cors mode will give you an opaque response, which doesn't seem to return data in the body. See Opaque Response
navigate: This is a special mode used only when

navigating

between documents.

websocket: This is a special mode used only when establishing a WebSocket connection.
Management
Polyfill
See
In the Browser devtool, you can see them.
Example with Chrome.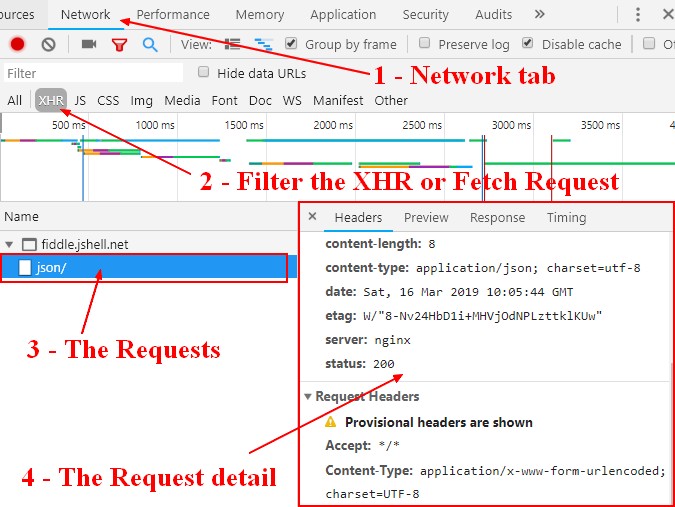 Example
Get
response.text() return a promise, you need to resolve it
fetch('https://gerardnico.com/doc/api/weather', {
    method: 'GET', // *GET, PUT, DELETE, etc.
  })
  .then(function(response) {
    console.log(response.status);
    console.log(response.statusText);
    console.log(response.type);
    console.log(response.url);
    // Response text is a promise, you need to pass it to a callback to resolve it
    response.text().then(function(data) {
            console.log(data);
    });
})

Post
var data = { name: "Nicolas", age: 46, city: "Oegstgeest" }

var formData = new URLSearchParams();
formData.append('json', JSON.stringify(data));

fetch('aURL', {
    body: formData, 
    cache: 'no-cache', 
    credentials: 'same-origin', 
    headers: {
      'Content-Type': 'application/x-www-form-urlencoded;charset=UTF-8'
    },
    method: 'POST', 
    mode: 'no-cors', 
    redirect: 'follow',
    credentials: 'same-origin'
  })
  .then(response => console.log(response)) 

or
fetch(url, {
    method: 'post',
    headers: {
      "Content-type": "application/x-www-form-urlencoded; charset=UTF-8"
    },
    body: 'foo=bar&lorem=ipsum'
  })
  .then(response => response.json())
  .then(function (data) {
    console.log('Request succeeded with JSON response', data);
  })
  .catch(function (error) {
    console.log('Request failed', error);
  });

More
Wrapper Library
isomorphic-unfetch
npm install --save isomorphic-unfetch

Documentation / Reference