Ssh - Tunnel - From server to local (Right Port Forwarding)
Table of Contents
About
When the port is not open on a server, you can still reach it via SSH and a right tunnel (or Right port forwarding).
When the tunnel is active, a request to a local port will be forwarded via the SSH tunnel to the port of the remote server.
Illustration Image Credit: How does reverse SSH tunneling work? from Erik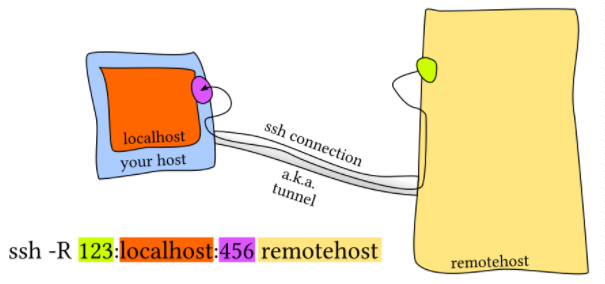 Articles Related
Steps
With the below example, we will query a HTTP server running on the client from the remote Server through SSH tunneling.
Create the tunnel
Ssh
From the client host:
ssh -N -T -l loginName -R8881:localhost:8888 sshServerHost

where
localhost is the host seen from the ssh client

The remote port is 8881 (The port of the Remote ssh Server)

The local host port is 8888

The loginName is loginName

N means no remote command
Jsch
Java with Jsch
JSch jsch = new JSch();
Session session = jsch.getSession(user, host, 22);
int localPort = 8888;
String localHost = "localhost";
int remotePort = 8881;
session.setPassword(password);
session.setConfig("StrictHostKeyChecking", "no");
System.out.println("Establishing Connection...");
session.connect();
session.setPortForwardingR(localPort, localHost, remotePort);

Make a request
Usage Example - Make a request from the server rerouted to your computer: On the remote SSH server request, a call to the port 8881 will be redirected to the port 8880 of localhost.
wget localhost:8881/hello.html

--2017-02-07 12:29:22--  http://localhost:8881/hello.html
Resolving localhost... 127.0.0.1
Connecting to localhost|127.0.0.1|:8881... connected.
HTTP request sent, awaiting response... 200 OK
Length: 5 [text/html]
Saving to: `hello.html'

100%[============================================>] 5           --.-K/s   in 0s

2017-02-07 12:29:23 (62.8 KB/s) - `hello.html' saved [5/5]