D3 - Stratify (From CSV to tree)
Table of Contents
About
Articles Related
Steps
Creating the stratify operator
In the stratify object definition, you may change the following properties:
the parentId function must return the parent of the node. For the root node, the parent id should be undefined. (Null and the empty string are equivalent to undefined.)

the id, the id of the node. For leaf nodes, the id may be undefined; otherwise, the id must be unique.
var stratify = d3.stratify()
    .parentId(function (d) {
        return d.path.substring(0, d.path.lastIndexOf("\\"));
    })
    .id(function (d) {
        return d.path;
    });

Getting the data as CSV
A template string containing the CSV data is passed to the d3.csvParse function. See D3 - DSV
var data = d3.csvParse(`path,size
root,0
root\\child1,10
root\\child2,20
`);
console.log("Data:")
console.log(data)

Creating the tree (By calling the stratify operator)
In this step, you call the stratify operator with the d3 CSV in-memory data representation as parameter to create a tree that will have:
a children property. An array of nodes

a depth property (0 for the root to N for the leaves)

a height property which is the inverse of the depth property (N for the root to 0 for the leaves)
var stratify = d3.stratify()
    .parentId(function (d) {
        return d.path.substring(0, d.path.lastIndexOf("\\"));
    })
    .id(function (d) {
        return d.path;
    });

var data = d3.csvParse(`path,size
root,0
root\\child1,10
root\\child2,20
`);

var root = stratify(data);
console.log(root);

Operations on the tree
Normally, you go further and you call two tree operations (See D3 - Hierarchy):
sum that will add for each node the value property

sort that will sort the children
var stratify = d3.stratify()
    .parentId(function (d) {
        return d.path.substring(0, d.path.lastIndexOf("\\"));
    })
    .id(function (d) {
        return d.path;
    });

var data = d3.csvParse(`path,size
root,0
root\\child1,10
root\\child2,20
`);

var root = stratify(data);

root.sum(function (d) {
            return +d.size;
        })
        .sort(function (a, b) {
            return b.height - a.height || b.value - a.value;
        });

console.log(root);

The details of root are: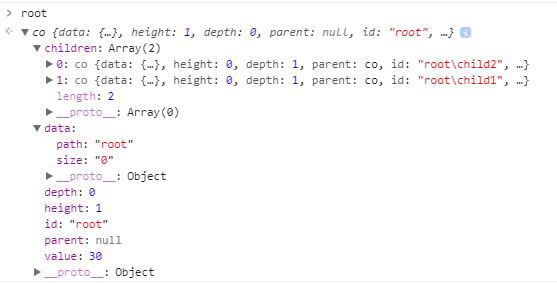 Documentation / Reference