Oracle Apex - Sample App
Table of Contents
About
Apex delivers Sample App with its own installation and as Apex itself is build in Apex, you can install it
Articles Related
Sample Apps
Bundle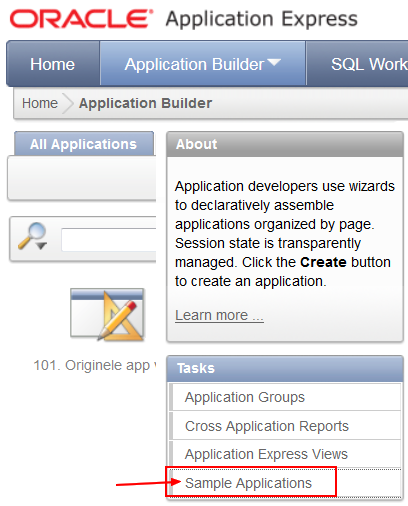 Apex
Apex is developed with Apex. You can then use it as a sample app.
Application File
The application to import are located in the following directory: <wrap box>apex_home/builder/</note>
f4000.sql
f4155.sql
f4350.sql
f4411.sql
f4550.sql
f4700.sql
f4850.sql
f4050.sql
f4300.sql
f4400.sql
f4500.sql
f4600.sql
f4800.sql
f4900.sql

Get the application number from the URL when you navigate.
Install the application
On the Install Application page:
Parse As Schema: Your workspace

Build Status: Run and Build Application

Install As Application: Change Application ID <note warning>If you don't change the application number, you will overwrite the real one</note>
This is what you get if you import the Apex Workshop application (f4500.sql) and that you choose as new application number 73500.
In the Edit Application Definition:
Documentation / Reference