Element
Canvas: The drawing area:

Moving Page: Spacebar + Mouse movement, or Shift + Right Click or Click and drag Mouse Wheel

Zoom where the cursor is: Ctrl + Mouse Wheel

5 shortcut to zoom and fit the page on the windows

4 shortcut to zoom and fit the drawing on the windows

3 shortcut to zoom and fit the selection on the windows

Printed, exporting or other predefined area.

Colors can be dragged from the palette onto objects to change their Fill. Using the Shift key while dragging will change the Stroke color instead

Command bar: shortcuts to command located in the header menus.

Tool Controls: Contains specific to the selected tool.

Clicking on an icon selects a tool. Double-clicking brings up that tool's preference dialog.

Status Bar

Style Indicator: Shows the style (Fill and Stroke) of a selected object, text fragment, or gradient stop.

A Left Mouse Click on the Fill or Stroke paint part of the indicator opens the Fill and Stroke dialog at the right (not as a popup)

A Right Mouse Click opens up a pop-up menu.

Ruler: Show the x- and y-axis coordinates of the drawing.

A Left Mouse Drag from a Ruler onto the Canvas creates a

Guide Line

.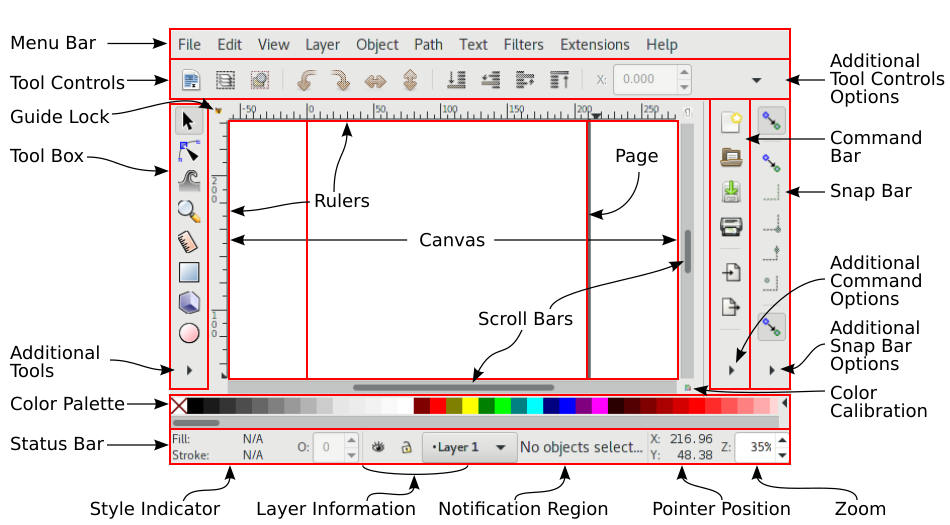 Dialog
Inkscape implements Dockable Dialogs.
Documentation / Reference