About
Inkscape can expand and contract shapes not only by scaling, but also by offsetting an path.
Offsetting move each nodes of the path in a perpendicular way in the inside or outside direction.
Offsetting will convert the original object to a path if needed
Type
Offseting has three modes:
Static
Inset Ctrl+) move the nodes inside

Outset Ctrl+( move the nodes outside.
Dynamic
Select the path object

Path > Dynamic Offset (Ctrl+J)

Inkscape creates an object with a draggable handle controlling the offset distance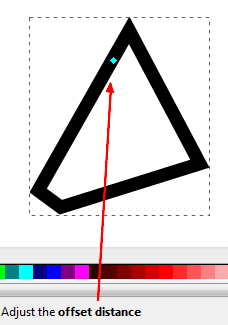 When you don't need it to be adjustable anymore, you can always convert an offset object back to path.