Inkscape - Gradient
Table of Contents
About
Articles Related
Stop
Gradients are defined in terms of Stops.
A Stop has:
a color

and a position (offset)
in the Gradient.
The default Gradient has two Stops, both with the same color but with different transparencies.
You can add as many stop as you want.
Management
Create
A gradient
There are two ways to add a gradient:
the Gradient Tool. Click on it and create a line with a start and an end handle.

the Fill and Stroke dialog.
A stop
Once a gradient line has been created, you can add a stop by:
double clicking on it.

or using the + icon of the control bar
Modification
Select the object and click on:
the gradient tool. By default, the end stop will be selected

or the spacebar, you enter in the Edit by node (F2) tool and you can see the stop nodes
Color: Both the Fill and Stroke paint tabs will show the color of the Stop and can be used to change the color.
List
Fill and Stroke dialog after selecting the object: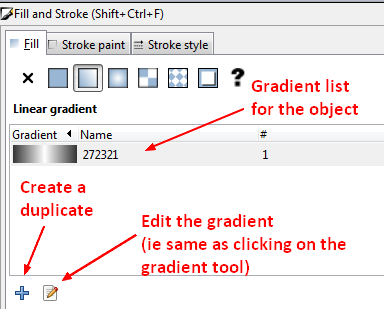 Documentation / Reference