Colors - (Complementary|Opponent) Colors
Table of Contents
About
Colours directly opposite to each other in a colour wheel and appears opposite in character are called complementary colours.
They cancel each other out, lose hue and produces a achromatic color (grayscale color like white or black).
Type
Additive
In a additive model (light, screen, monitor such as rgb), the primary opponent/complementary color cancels each other to get white
rose versus aquamarine

…
You can see them in this RGB wheel.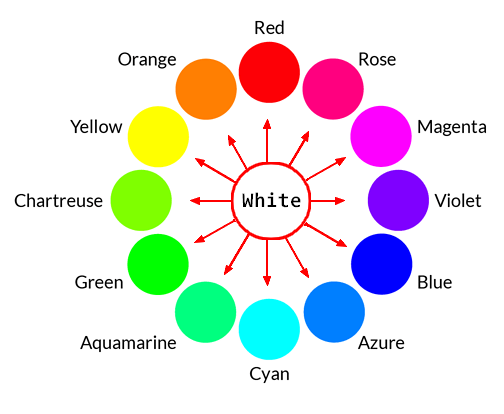 Demo:
Subtractive
In a subtractive model (ink, paint, printing), there are three opponent channels that creates a color closed to black (brown).
You can see them visually in this ryb star:
Contrast
Glossary
Direct complements
Colors that are directly opposite each other on the colour wheel.
Split complements
A colour and the two colors adjacent to it's direct complement.