Weblogic - MBean Browser/Explorer
Table of Contents
About
Articles Related
MBean
Weblogic Browser
The Fusion Middleware Control MBean Browser is an Oracle Web application (based on JMX MBean containers), that can be used instead of Fusion Middleware Control to perform centralized and local management of Oracle Business Intelligence system components.
In the Navigator window, expand the WebLogic Domain folder and the bifoundation_domain node, and select the AdminServer node.

Display the WebLogic Server menu and select System MBean Browser from the menu to display the Fusion Middleware Control System MBean Browser.

Navigate to the following MBean (the first BIDomain MBean): oracle.biee.admin, Domain:bifoundation_domain

All

MBeans

are present in this folder
Eclipse Explorer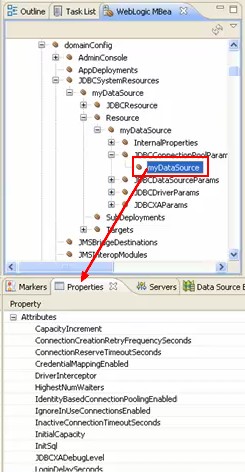 See Eclipse - How to add a Weblogic Server as Eclipse Server ? for more details.
Support
java.lang.OutOfMemory
During the browse of Mbean, I meet a java.lang.OufOfMemory. (PPR)
java.lang.OufOfMemory

For more information, please see the server's error log 
for an entry beggining with: Server Exception during PPR, #3

To solution this problem, I have:
Documentation / Reference