Fusion Middelware - Metadata Service (MDS)
Table of Contents
About
The MDS schema provides a unified metadata store for Oracle Fusion Middleware products and components, such as Oracle Business Intelligence.
Oracle Metadata Services (MDS) is an application server and Oracle relational database that keeps metadata in these areas:
a file-based repository data,

dictionary tables (accessed by built-in functions)

and a metadata registry.
One of the primary uses of MDS is to store customizations and persisted personalization for Oracle applications.
Oracle Metadata Services (MDS) is used by Oracle applications components to manage and store their metadata.
Example of Application components that used it:
Oracle WebCenter Framework

Oracle Application Development Framework (ADF)

BI Publisher,

Real-time Decisions,

Scorecard product
Examples of metadata objects managed by MDS are:
JSP pages and page fragments,

ADF page definitions and task flows, and customized variants of those objects.
The MDS schema is created with RCU
Articles Related
In EM
In Weblogic - Fusion Middleware Control (aka Entreprise Manager):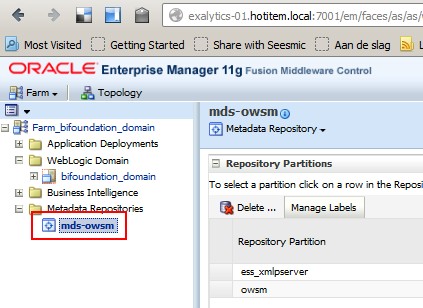 Expand the farm, then WebLogic Domain > Select the domain >From the WebLogic Domain menu, choose Metadata Repositories.
Documentation / Reference