About
ODI Agent is a lightweight Java process that orchestrates the execution of ODI scenarios.
The ODI Agent can be installed to allow for lights-out processing of ODI scenarios developed with Designer :
as a Java EE Agents

as a service (Standalone Agents)
It integrates the Scheduler to execute the interfaces according to a predefined schedule.
Agent Architecture Overview
J2EE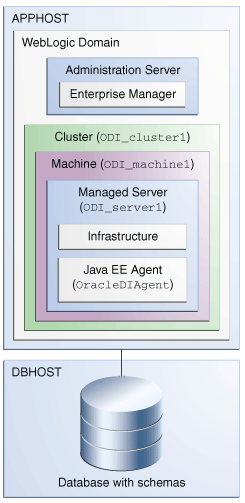 Java EE Agents are installed in a Oracle WebLogic Server (since 11g), and automatically benefit from the clustering, load-balancing, data-sources and connection pooling features available with the application server.
A Java EE agent is a JEE application that is deployed and runs on a Managed Server configured in a WebLogic domain.
The Java EE agent is best suited for environments where Oracle Data Integrator interoperates with other Oracle Fusion Middleware products.
The architecture picture contains the following components:
APPHOST refers to the computer that is hosting the application tier.

DBHOST refers to the computer that is hosting the database.

WebLogic Domain

A logically related group of Java components (in this case, the administration Server, Managed Servers, and other related software components).

Administration Server

: The central control entity of a domain which maintains the domain's configuration objects and distributes configuration changes to Managed Servers.

Cluster

: A collection of multiple WebLogic Server instances running simultaneously and working together.

Machine is a logical representation of the computer that hosts one or more WebLogic Server instances (servers). Machines are also the logical glue between WebLogic Managed Servers and the Node Manager; in order to start or stop a Managed Server with Node Manager, the Managed Server must be associated with a machine.

Managed Server

: Host for your applications, application components, Web services, and their associated resources.

Infrastructure: Collection of services that include the following:

Metadata repository (MDS)

This contains metadata for Oracle Fusion Middleware components, such as the Oracle Application Developer Framework.

Oracle Application Developer Framework (Oracle ADF)

Oracle Web Services Manager (OWSM)

Java EE Agent
Standalone
Standalone Agents are installed as a service. For instance in the case where the agent needs to be located close to the data, or on systems where Oracle WebLogic Server is not a viable option.
A standalone agent runs as its own process and is managed by the WebLogic Management Framework. Typically, you would install a standalone agent so that it runs in any environment where the agent process should be lightweight and local WebLogic Server operations are not supported.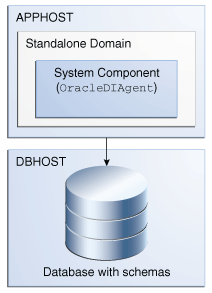 where:
Standalone Domain

is a container for system components, such as Oracle HTTP Server or Oracle Data Integrator standalone agents.

System Component

is a manageable process that is not deployed in a Java application container.
Log
fmw_home\user_projects\domains\base_domain\system_components\ODI\OracleDIAgentName\logs\oracledi\odiagent.log
Documentation / Reference