About
The Designer has the following tools that you use to analyze sources, design target schemas, and build source-to-target mappings: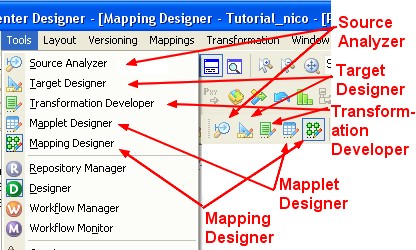 Designer Panel
You can display the following windows in the Designer:
Navigator. Connect to repositories, and open folders within the Navigator. You can also copy objects and create shortcuts within the Navigator.

Workspace. Open different tools in this window to create and edit repository objects, such as sources, targets, mapplets, transformations, and mappings.

Output. View details about tasks you perform, such as saving your work or validating a mapping.
The navigator doesn't appear anymore
When you are going from two screen to only one, you may lost your Navigator when using docking. To retrieve your navigator, just suppress the following registry map:
HKEY_CURRENT_USER\Software\Informatica\PowerMart Client Tools\8.6.1\Designer