PowerCenter - Services
Table of Contents
About
Services in Powercenter.
Powercenter made a difference between:
the infra service (service manager, admin service,…) that manage the cluster

and the others services (called application services) that delivers other services
A product in Powercenter is a collection of application services. See Powercenter - Product (or edition)
The Service Manager manage the application services on each node.
Example in the Web administrator: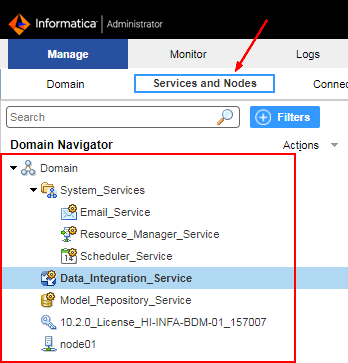 Articles Related
Management
List
with Powercenter - Infacmd command line tool
infacmd.sh listServices -dn DOMAIN_EIC_01 -un Administrator -pd Password

MRS_EIC_01
CMS_EIC_01
Resource_Manager_Service
DIS_EIC_01
Email_Service
Scheduler_Service

Doc:
Service
Default Port
node port (domain port)
6005
PowerCenter - Service Manager
6006 (Communication), 6007 (Shutdown)

administrator service

6008 (Communication), 6009 (Shutdown)
Dynamic Port (6014 to 6114)
model repository service
manages the Model repository
PowerCenter - Repository Service (Process)
Manages connections to the PowerCenter repository
PowerCenter - Integration Service
Runs sessions and workflows
Static
Analyst Service
Default is 8085 for HTTP
Catalog Service
Default is 9085 for HTTP

Content Management Service

Default is 8105 for HTTP
Data Integration Service
Default is 8095 for HTTP
Metadata Manager Service
Default is 10250 for HTTP
Reporting and Dashboards Service
Default is 10370 for HTTP
Reporting Service
Default is 16080 for HTTP
Search Service
Default is 8084 for HTTP
PowerCenter - Web Services Hub
Default is 7333 for HTTP, Exposes PowerCenter functionality to external clients through web services.
HTTPS
8443
Powercenter - Sap BW service
Listens for RFC requests from SAP NetWeaver BW and initiates workflows to extract from or load to SAP BW
Status
With Powercenter - Infacmd command line tool
infacmd.sh getServiceStatus -dn DOMAIN_EIC_01 -un Administrator -pd password -sn MRS_EIC_01

Enabled

Services Process Status (Status of a service on a node ???)
infacmd.sh getServiceProcessStatus  -dn DOMAIN_EIC_01 -un Administrator -pd password -sn MRS_EIC_01 -nn NodeEic01

Enabled

Ping
Powercenter - Infacmd command line tool
infacmd.sh ping -dn DOMAIN_EIC_01 -sn MRS_EIC_01

[INFACMD_10052] Service [MRS_EIC_01] Domain [DOMAIN_EIC_01] Host:Port [HI-INFA-EIC-01:6015] was successfully pinged.
Command ran successfully.

Note
Application are web application archive located at infa_home/services/CatalogService/ (ldmadmin.war).
Naming Convention
Object
Naming Convention
Examples
Domain
DMN, DOM, DOMAIN, _<ORG>_<ENV>
DOM_FIN_DEV (Finance Development)
DOMAIN_ICC_PD (Integration Competency Center Production)
Node
Node<node##>_<ORG>_<optional distinguisher>_<ENV>
Node01_ICC_DEV
Node07_FIN_REVENUE_DV
Content Management Service
CMS_<ORG>_<ENV>
CMS_FIN_DEV
Data Integration Service
DIS_<ORG>_<ENV>
DIS_ICC_DEV
Model Repository Service
MRS_<ORG>_<ENV>
MRS_FIN_DEV
Catalog Service
CS_<ORG>_<ENV>
CS_HR_DEV
Informatica Cluster Service
ICS_<ORG>_<ENV>
ICS_FIN_DEV
Configuration
Port
Use the following guidelines to determine the port numbers:
The port number you specify for the domain and for each component in the domain must be unique.

The port number for the domain and domain components cannot be within the range of the port numbers that you specify for the application service processes.

The highest number in the range of port numbers that you specify must be at least three numbers higher than the lowest port number. For example, if the minimum port number in the range is 6400, the maximum port number must be at least 6403.

The port numbers that you specify for the domain, domain and node components, and application service processes cannot be lower than 1025 or higher than 65535.
Log
Documentation / Reference
Installation Guide - PC_901_InstallationAndConfigurationGuide_en.pdf