About
The PRM file is a text file that lists parameters used to configure universes creation and SQL query generation in Web Intelligence. There is a PRM file for each supported RDBMS.
PRM files are located in the database folders under
<INSTALLDIR>\win32_x86\dataAccess\ConnectionServer\

Editing .PRM files is described in the Data Access Guide.
Verifying which PRM file is used by a connection
To verify which PRM file is used by a universe connection:
Select File > Parameters.
The Parameters dialog box appears.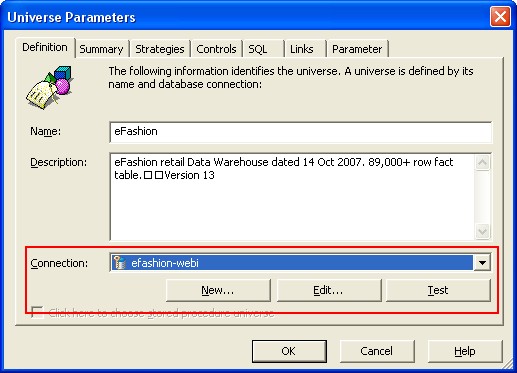 The Test Connection message box appears.
Click the Details button.
The details of your connection appear in a drop down message box.
Scroll down the message box to the line that starts with PRM.
This line indicates the file path and name of the PRM file currently used by the active universe.