OBIEE - The answer Prompt
Table of Contents
About
The answer prompt occurs when you call an answer.
Articles Related
How create it ?
In a answer, click on the tab "prompt"

In the prompt tab, you can add a prompt by clicking on the "Create Prompt" button.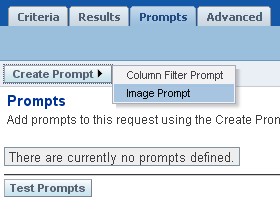 Continue in the process, fill what you want and you're done.
You can test your prompt by pressing the "Test Prompt" (above) or the "Show how result will look on a dashboard" button" (below)