About
MOS is an acronym for My Oracle Support. It's the single entry for the Oracle Support. You can touch it on this URL:
Contact: Local contact phone number
History
Before the end of 2009, Oracle had two support web site that are fusionned in one.
Oracle,

Agile,

Metasolv,

Empirix,

BEA

Siebel,

Hyperion,

PeopleSoft,

JD Edwards
Oracle Support Priorities
Minimize system disruption through:
Problem Avoidance (resolving configuration and data issues that would cause processes to fail)

Self Service Resolution (resolving problems without the need to contact Oracle Support)

Reduction in Resolution Time (minimizing the time spent to resolve an issue)
Support Maturity Model
Reactive:
System goes down

You call Support

You wait for Support to call back

Support calls you back

You download and install a patch

System is eventually recovered
Proactive:
Support notifies you of the latest patches

You figure out which patches apply to your system

You download the new patches

You install the new patches

System outage is averted some of the time
Predictive:
Specific software defect is idenfified

You are automatically notified of the potential problem & impact

You're offered a remedy

You implement the recommended remedy

System outage is averted most of the time
LifeTime Support
Date of End Support after the GA
Premier: 5 years

Extended: 5+3 years

Substainable: Indefinite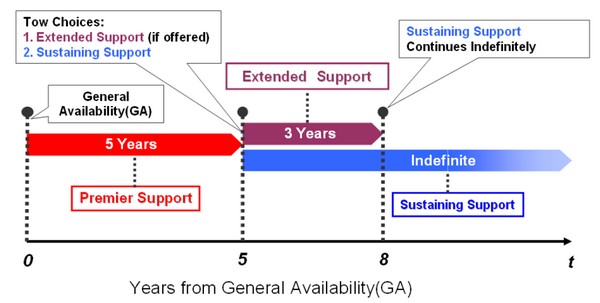 Product
Premier Support
Extended Support
Sustaining Support
Major Product and Technology Releases
Yes
Yes
Yes
Technical Support
Yes
Yes
Yes
Access to Knowledge Base
(Oracle MetaLink/ PeopleSoft Customer Connection/Siebel SupportWeb)
Yes
Yes
Yes
Updates, Fixes, Security Alerts, datafixes, and Critical Patch Updates
Yes
Yes *
Pre-existing **
Pre-Existing Only
Yes
Yes
Pre-existing **
Tax, Legal, and Regulatory Updates
Yes
Yes
Upgrade Scripts
Yes
Yes
Pre-existing **
Pre-Existing Only
Yes
Yes
Certification with most existing Third-Party Products
Yes
Yes
Certification with most new Third-Party Products
Yes
Yes
Certification with most new Oracle products
Yes
Certification with most existing Oracle products
Yes
Yes
* :New Updates and Fixes created during Extended Support are made downioadable only for the customers with valid Extended Support

** :Pre-existing: Any Updates, Fixes, Upgrade Scripts, Security Alerts, and Critical Patch Updates created during Premier Support.
Support fee from the general date of availability:
| Support | Price | Growth vs Premier support fee | Time from GA |
| --- | --- | --- | --- |
| Premier support fee | 100 $ | | first 5 year |
| Extended support fee | 110 $ | 10% | year 6 |
| Extended support fee | 120 $ | 20% | year 7 and 8 |
| Sustaining Support | 100 $ | equal (no uplift) | any year |
Multi-vendor Support Program (MVSP)
The Oracle Multi-Vendor Support Program (MVSP) is a program that provides a collaborative structure for support issues involving multiple vendor products. The focus of this program is to enhance the level of customer satisfaction by facilitating 3rd party vendor interactions.
Members of:
registered for the MVSP, can participate in this program.
OPN Website > Support > MVSP
OPN members must meet the Application Requirements and agree to the Collaboration Requirements below. Requirements may change at the sole discretion of Oracle program management.
Application Requirements
Partner must be a current OPN member in good standing

Partner must apply and received confirmation of acceptance for use of this benefit

Partner must be accepted into the Product Focus Area(s) for the product on which they wish to collaborate

Partner must have a published profile in OPN Solutions Catalog

Partner must have a customer that has an active Oracle support agreement
Requirements for Collaboration
Partner must agree to collaborate with Oracle

Partner must follow specific inbound Contact Instructions

Partner must use their MVSP support identifier number assigned

Partner must provide the mutual Customer's support ID number

Partner must respond to all request by Oracle based on the following

Severity levels:

Severity 1 – within 1 hour

Severity 2 – within 2 hours

Severity 3 – within the next business day

Severity 4 – within the next business day

Partner must provide and maintain standard contact information

Partner must provide and maintain escalation instructions
Tools
Tools that provides a mechanism for uploading both diagnostic and configuration information as attachment to an SR.
Oracle Configuration Manager (OCM)
RDA
RDA (Remote Diagnostic Agent) is:
a set of command line, diagnostic and data collection scripts

used to gather detailed diagnostic information about an oracle environment
and collect only:
data for Oracle Support (a security filter is provided if required)
Utilities
Harvester

EM Grid Control for configuration collection

Mass Deployment Tool

- Single Point Distribution Tool. Allos for the instllation of configuration manager software to multiples homes from a single point
You can download Oracle Support Hub and Mass Deployment Tool from the Collectors tab in my Oracle Support.
Service Request
First, search the knowledge bases
| Severity | Name | Definition |
| --- | --- | --- |
| Severity Level 4 | No Business Impact | No loos of service or ressources |
| Severity Level 3 | Minor Business Impact | Minor loss of service or resources |
| Severity Level 2 | Serious Business Impact | Severe loss of service w/o acceptable workaround |
| Severity Level 1 | Critical Business Impact | Complete loss of service or resources and work cannot reasonably continue - the work is considered "mission critical" |
Tools:
RDA: Remote Diagnostic Agent

Camstudio
Escalation
For an escalation process (to an manager level), you have to update SR in My Oracle Support and then call into Support.
Asking to increase the severity is NOT an escalation

Escalating an issue means bringing Oracle Support Management attention to your service request

Escalating your service request will provide a direct, 2- way dialogue with a manager support

Severity increases can be discussed during the dialogue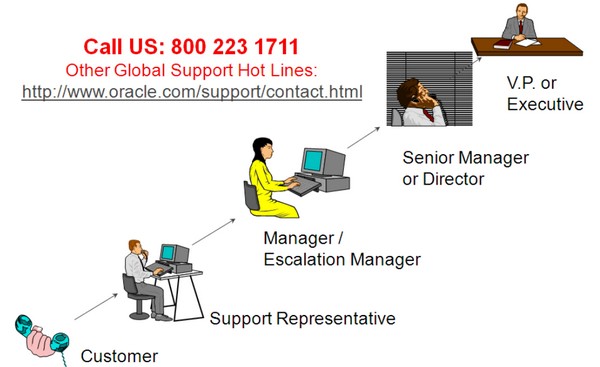 Diagnostic Tools
The can be accessed via:
For example:
Maintenance / Upgrade Companion (Wizard)

RDA: Remote Diagnostic Agent

DBA Script Library

Performance Tuning Tools (Linux and Unix only)

SQL Tuning scripts

Diagnostic Support Pack
SQL
SQLTXPLAIN.SQL

. Generates comprehensive diagnostic files normally used in the area of SQL analysis and tuning

Trace Analyzer - TRCANLZR

. Reads and parses one or several SQL traces and producs a comprehensive report with performance related details. Outpu report includes all the detials found on

TKPROF

, plus additional information normally used for a process performance analysis.
Education
Oracle University

Oracle by Examole

Oracle Events (Regional and Webcasts)
Service Catalog
Complete portfolio of services covering the entire solution lifecycle
Developed to assist customers in:

Reducing total cost of ownership

Lowering risk

Improving business value

Dynamic filtering and navigation to your required services

ITIL Phase

Oracle Line of Business

Alphabetical

Summary description of all support services
Support Newsletters
enhance the service experience with Oracle Support by pro-actively providing valuable information

Technical Updates

focuses on specific product areas

Subscriptions can be received via email (

subscribe

)
Community
My Oracle Support (Communities)

OTN Forums

Oracle Wiki

Oracle Blogs

Oracle Podcasts

Oracle Newsletters

Oracle Mix

Asktom

OracleCommunity.net

Usersgroups
Transfer of information (TOI)
TOI New features online training
Available to Oracle Supported customers at product release

These online courses provide release-specific product knowledge that enables to:

plan

implement/upgrade

and support Oracle Applications and Technology products
System
Systems are named collections of hardware, software and operating system running on a machine.
Documentation / Reference