Essbase - Data Prep Editor
Table of Contents
About
Data prep editor permit to edit Essbase - Rules File. When it open, the menu in the Essbase - Administration Services Console change.
The upper screen frame shows the Essbase - Data Source file in its original form.
The lower screen frame shows how Essbase will interpret the data before it gets loaded into your Essbase - Database (cube).
Articles Related
View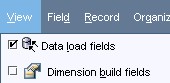 How to open it ?
Support
Invalid blank character in name
When you try to open a data load file, you may fire this error :
1030010 - Invalid blank character in name

The message indicate that you have blank character either in the directory or the name of the file and that they are not allowed. Suppress them to have a complete location without space as :
C:\DirectoryWithoutSpace\NameOfTheDataFileWithoutSpace.xls