Oracle Hyperion - Essbase
About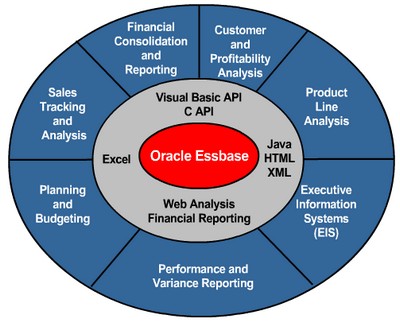 Hyperion Essbase is an Online Analytical Processing (OLAP) server that :
extracts data from a wide range of datasources, including :

files,

and spreadsheets,

calculates and then aggregates this data

and then provides fast access to the results, using a dimensional model through several APIs and languages, including XML/A and MDX. Users interact and intuitively explore data in real time and along familiar business dimensions, enabling them to perform speed-of-thought analytics.

For users with complex analytical requirements, Oracle's Hyperion Essbase, can provide access to :
forecasts,

allocations,

cross-dimensional queries,

and aggregated data.
Essbase was created to provide :
one system that satisfy the global reporting and give accuracy

multidimensional spreadsheet-based analysis.
It was originally developed in order to deal with the scalability issues associated with spreadsheets such as Lotus 1-2-3 and Microsoft Excel.
It is why Essbase means Extended SpreadSheet Database
Oracle Hyperion Essbase is :
part of the Oracle Fusion Middleware family of products.

a business analysis server technology

an environment for rapid development of custom analytic and enterprise performance management applications.